Latest News
Association of Caribbean Electoral Organizations

ACEO Hosts Seventh AGM in Paramaribo
28th January 2014 12:00AM
The Association of Caribbean Electoral Organisations hosted its Seventh Annual General Meeting in Suriname January 17&18, 2014. The two-day meeting saw robust discussions on a number of electoral matters affecting member states. Primary among them was the issue of campaign financing. Additionally, outgoing ACEO Chair, Dr Stephen Surujbally of Guyana passed the baton to the new chair, Dr Jennifer van Djik Silos of Suriname. Dr van Djik Silos said she would work assidiously this year to realise the organisation's plans. A full report on the progress and outcomes of the meeting will be available soon. ...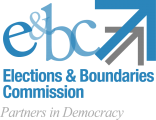 E&BC contributes to constitutional reform
09th May 2013 12:00AM
The Government of Trinidad and Tobago recently launched a nationwide series of consultations on constitutional reform and the Elections and Boundaries Commission (E&BC) contributed to the process by outlining what it considers to be fundamental components in the architecture of the Constitution in relation to electoral matters. Click here to access the E&BC's contribution to the National consultation on constitutional reform. ...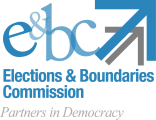 Press Release: Chairman to Attend A-WEB
09th May 2012 12:00AM
Dr. Norbert Masson, Chairman of the Elections and Boundaries Commission (E&BC) has been invited to participate in the Meeting of the Working Group on the Establishment of the Association of World Election Bodies (A-WEB) in Seoul, Republic of Korea from 9th-12th May, 2012. The National Election Commission of Korea (NEC) extended the invitation to Dr. Masson, who is also the current Chairman of the Association of Caribbean Electoral Organizations (ACEO). The Commission welcomes the opportunity to be part of the Working Group. ...
T&T sends member to Bahamas
04th May 2012 12:00AM
Ms. Fern Narcis, Senior Legal Officer at the Elections and Boundaries Commission, Trinidad and Tobago, is a Member of the CARICOM Electoral Observer Mission to Bahamas for their May 7th , 2012 General Election. ...